Atlantis shower systems are second to none when it comes to performance and durability.
While different warranties apply to specific products, Atlantis Bathroom Style Pty Ltd warrants that products or system components manufactured and distributed by the company.
Meet or exceed the standard requirements of the Building Code; and
Will be free from inherent defects and workmanship for the extended warranty period applicable to the Product.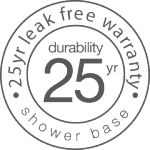 Leak-free Warranty
As added assurance all tile-over shower bases (Linea Quattro) supplied by Atlantis are warranted against water leakage into the building structure for 25 years. EasyNiche (tiled soap shelf) are warranted against water leakage into the building structure for 25 years.
Installation Warranty
Atlantis does not install product, however we suggest using a Recommended Installer (if available in your area).
Recommended installers are typically trained by Atlantis regularly. Installers should offer their own workmanship warranty. Atlantis does not guarantee any installers workmanship. Installers act independently of Atlantis.
Durability Warranty
Linea Quattro tiled shower bases and EasyNiche Tile Over are warranted for durability and against water leakage for 25 years.
EasyNiche (retrofit and exposed) are warranted against water leakage into the building structure for 7 years.
Stainless Steel/Brass Hardware are warranted for 5 years.
Atlantis Toughened Glass is warranted for 5 years**
When the shower components are installed in accordance with manufacturer's instructions, Atlantis Bathroom Style Ltd warrants that the shower base will not allow water leakage* into the building structure for the minimum period as stated above. Atlantis supplies a frameless shower system, it is accepted that this is not a sealed unit. Surface splashes from around the frameless screens are deemed normal. *water leakage excludes surface splashes.
**Glass Warranty
Warranty is on glass that has been fully installed in accordance with manufacturers instructions.
Warranty does not cover breakages during installation.
Warranty does not cover installation, only resupply of glass products.
Some visible defects are inherent in the glass manufacturing process and various manufacturers have slightly differing final quality standards. However, AS/NZS 4667:2000 "Quality requirements for cut to size and process glass" sets the guidelines for acceptable glass quality and methods to view and assess the defects.
The glass used in Atlantis showers is toughened glass and has been tested to meet the ASNZS 2208 Safety Standard. All Atlantis Shower Systems have the safety standard permanently etched on the (face) glass panels, in accordance with the AU Building Code.
Please view our Terms and Conditions for more information.